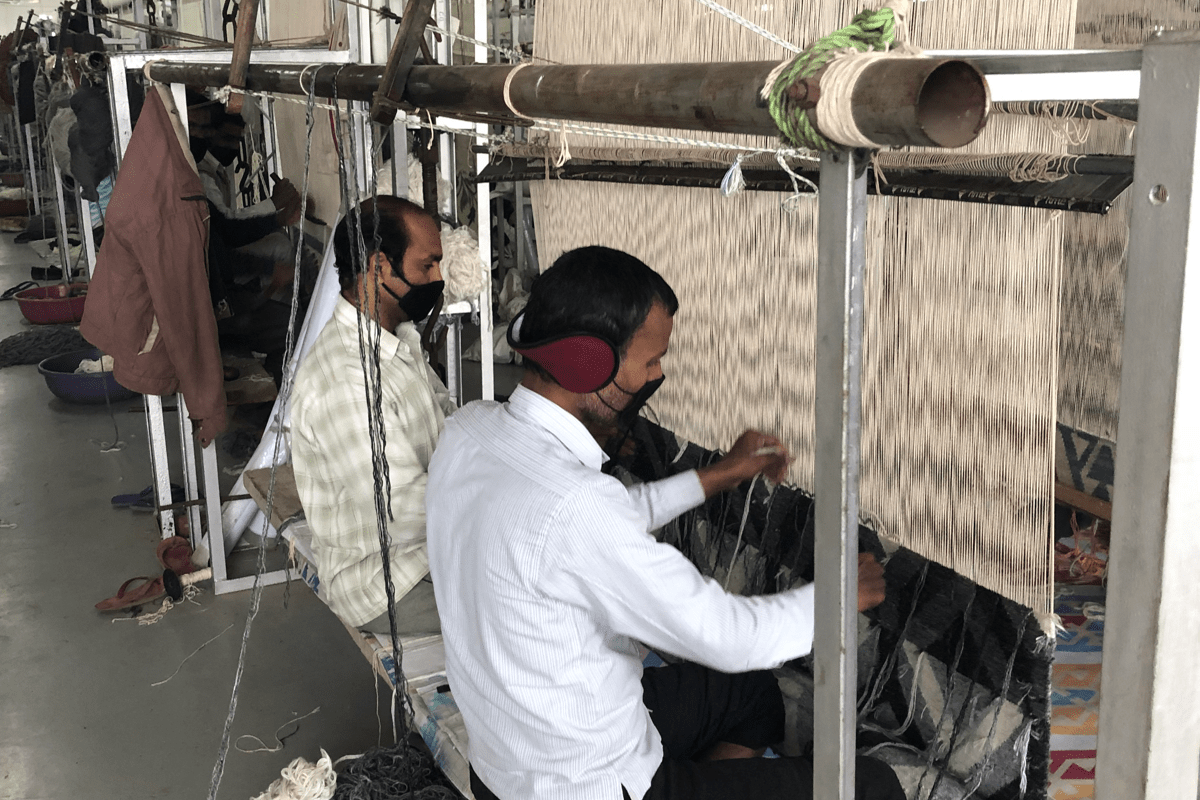 Social responsibility
CarpetVista does not own any factories, instead we work with carefully selected independent suppliers in long-term partnerships. These close collaborations enable us to have close dialogue, commitment and joint development activities to secure fair and sustainable social and environmental conditions. All workers, involved in the production of the rugs in our assortment have the right to a safe and healthy workplace and fair remuneration. The working conditions for carpet weavers and knotters are an important part of our sustainability work. Most hand made rugs are produced in low cost countries where the living and working conditions are not at the same level of standard as in developed countries. All our suppliers are required to follow our code of conduct that sets the requirements for working conditions, the prohibition of child labour and bonded labour, fair remuneration and more. The factories, weaving centers and home weavers are audited through accredited parties on a regular basis, where we inspect and verify that the supplier is respecting the code of conduct. Deviations from the code that appear during an inspection must be corrected by the supplier and followed up during a re-inspection. We also encourage our suppliers to work with self-assessment, in order to share the ownership of the sustainability agenda with them.
There are challenges in the code of conduct follow up work, mainly because of insufficient management systems among suppliers in low cost countries but we work with continuous dialogue, education and audits with the goal to have our suppliers independently and systematically improve the working conditions and working environment.
Supply chain transparency is the key to making progress within all areas of sustainability including working conditions and we are continuously urging our suppliers to show their total supply chain transparency.
Code of Conduct
Our Code of Conduct follows the International Labor Organization ILO's conventions and the United Nation's Global Compact. The Code of Conduct is distributed at our supplier's workplaces to inform workers about their rights and rules for safety and health of workers. CarpetVista has zero tolerance for any supplier using under aged workers. All children are to be protected against economic exploitation and not be exposed to anything that could harm their physical, mental, moral or social development. Where young workers (older than legal working age) are employed, suppliers have to ensure that the kind of work is not likely to be harmful to their health or development and their working hours do not prejudice their attendance at school. We also do not accept any form of bonded labour. Everyone has the right to fair and clear contracts and psychological or physical compulsion. Any kind of abuse or humiliation of employees is unacceptable.
amfori BSCI and Label STEP
CarpetVista is a member of amfori BSCI, a European initiative bringing together thousands of companies around a common Code of Conduct. Their primary task is to support the network in the process of creating sustainable and ethical supply chains. As amfori BSCI member, we have undertaken to follow BSCI Code of Conduct. All amfori BSCI members cooperate to put demands and improvements on suppliers who, in turn, undertake to comply with BSCI's Code of Conduct and with the network's commitments. Amfori BSCI is primarily supporting industrial supply chains, including our suppliers in Turkey and weaving centers in India.
To address the complex issues of rugs made by home weavers and home knotters, CarpetVista is a certified Label STEP Fair Trade Partner. Label STEP is a non-profit organization committed to the wellbeing of weavers and workers in the handmade carpet industry. As a certified STEP Fair Trade Partner, CarpetVista commits to independent audits throughout the supply chain. STEP actively supports producer improvements while empowering weavers and workers through educational programs that cover topics as health and safety and financial literacy. Through these combined efforts, CarpetVista and Label STEP reinforce industry sustainability and help preserve centuries-old artisanal skills.
Read more about amfori BSCI:

Read more about Label STEP: